Submit your business information and upload your documents for KYC/KYB verification
Step 1
Once you click on 'Start' under Account Verification, you will be directed to the SumSub verification process.
Step 2
🏢 For Businesses and Charities
Complete KYB = Know Your Business verification.
Input the legal entity name of your business and registration number. Next, upload documents for proof of business registration which need to include:
Names of all directors of the corporation, and

Names and addresses of all persons who directly or indirectly own 25% or more of the company.
Multiple documents may be submitted to satisfy the above. Recommended documents: Articles of incorporation, Certificate of incorporation, Shareholder register, Director register (or T1235 for Charities), Organizational chart, Schedule 50 of T2 Corporate Tax Return.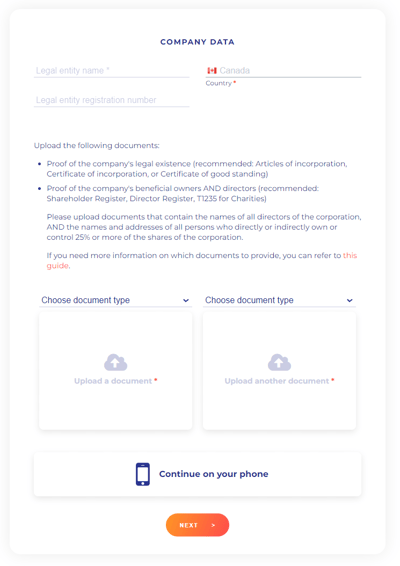 🙍For Individuals or Sole Proprietors
Complete KYC = Know Your Client verification.
Select the type of document that you would like to verify with. Recommended: Driver's license.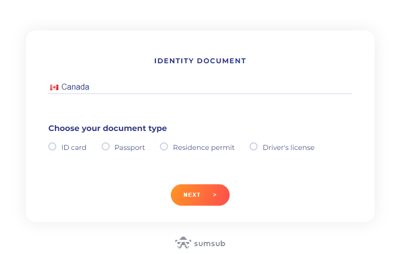 Upload Identity Document
Fields to upload the front and back of the document will appear below, as well as a button to continue this process on your phone. By continuing on your phone you can scan the QR code or send the link to yourself, allowing you to use your mobile device camera instead of uploading already taken photos. After uploading the respective photo IDs, please check the information below to make sure everything is correct.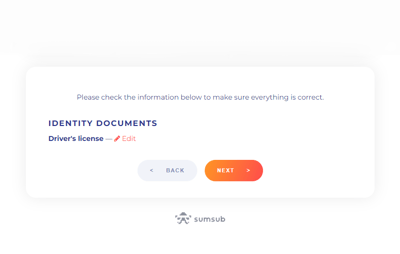 Once pictures of your ID are uploaded click 'Next' to submit the verification to Sumsub to process. This may take 2-5 minutes. You will also receive an e-mail from us once completed. If you are not already redirected back to the Dashboard you may click the "Back" button to return to our Dashboard.
For any issues, please contact support@eukapay.com.